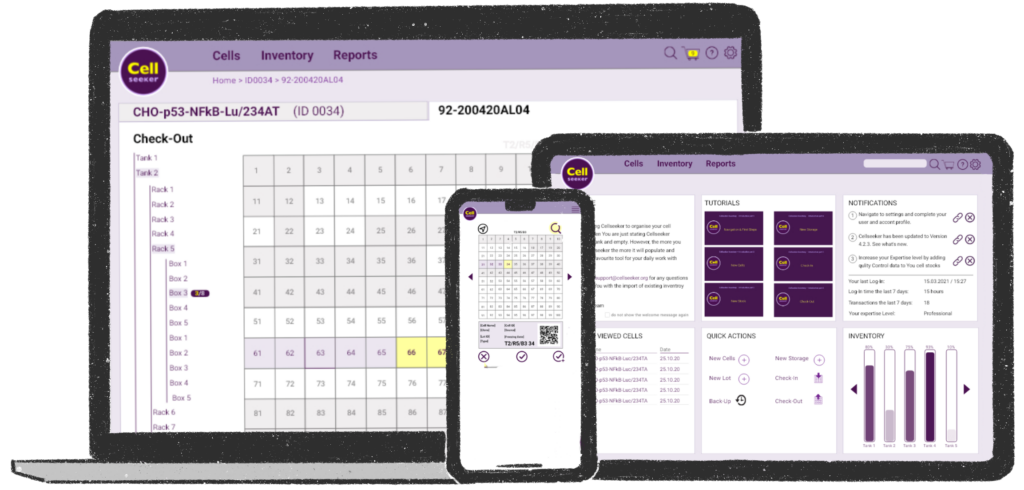 Cloud inventory software for cell banking and cell based research.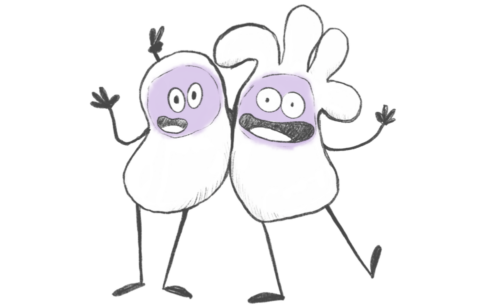 It's made for cells
Organize your cell lines and keep all relevant information in a data sheets optimized for cells.
Cell images, GMO status, culture-, freezing- and dissociation medium, tissue and morphology, culture conditions and additional files find their place in Cellseeker.
Developed by experts in cell banking.
It's easy and intuitive
Inventory your cell stocks and keep track of every single vial in your storage.
Quick check in- and check- out of cryoconserved stock, thoroughly tested for suitability in our own labs.
Quality control, sterility testing and other valuable information for each lot can be added.
Barcode scanning and creation for sample labeling will be added in the next updates.
Import of your current stock can be done via our Excel import sheet.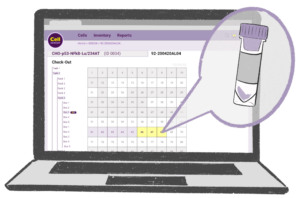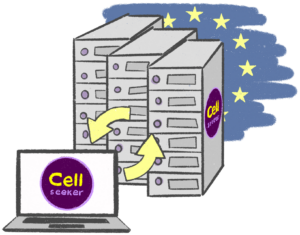 It's secure and versatile
All data in Cellseeker Inventory is stored on servers in the EU using state of the art security protocols including frequent back ups.
Access Cellseeker Inventory throught your browser from anywhere in the world, from any device, no software installation needed.
Create multiple users for your account with different access levels.
All transactions in the inventory are recorded and downloadable, ready to be documented in your traditional or digital lab book.
0€ / Month
Partnering
20 users per account
unlimited cell collection
5 virtual storage units
partnering of selected cell lines
free of charge, sponsored by ads
Sign Up
42€ / Month
Personal
single user account
unlimited cel collection
one virtual storage unit
no partnering of cell lines
free of advertisements
Sign Up
216 € / Month
Professional
20 users per account
unlimited cell collection
5 virtual storage units
import of exsisting inventory data
customized reports
no partnering of cell lines
free of advertisements
user support by email
Sign Up
978 € / Month
Premium
unlimited users per account
unlimited cell collection
unlimited virtual storage units
import of exsisting inventory data
customized reports
no partnering of cell lines
free of advertisements
preferred user support
FDA 21 CRF part 11 compliance
Sign Up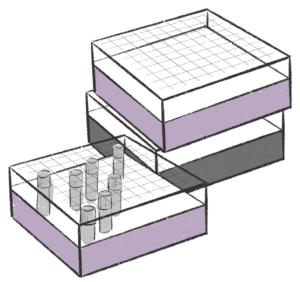 With Cellseeker we have a much better overview about our stocks. Lost samples due to faulty lists is an issue which belongs to the past.
Neal Driggler, Cell Depository Manager
In a collaboration with a partner lab we can now simultaneously access the information of our joint cell line collection – this is a great improvment for our work.
Thorsten Suhler, Group Leader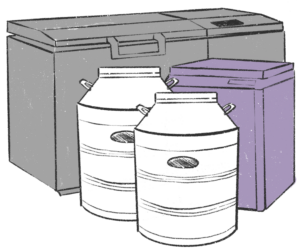 Find our tutorials on youtube